Site last updated 21 April 2018
Welcome
The Shropshire Association covers the towers in the Salop Archdeaconry of the Lichfield Diocese, and is roughly the area north of the River Severn, from near Wolverhampton in the southeast to Selattyn in the northwest. The rest of Shropshire is in the Hereford Diocese.
If you would like to know more about bellringing click here www.cccbr.org.uk/what-is-bell-ringing/.
If you like to learn to ring please contact our secretary [
email
], or go along to a tower near you on a practice night.
Information about the towers in the Association, practice nights and Association events, and much else, can be found by following the links on the left or below.
Third Wednesday Morning Training at Edgmond - April
The next Third Wednesday of the Month morning practice, will be held at Edgmond Ringing Centre on Wednesday 18th April, from 10am to 12:30pm.
Ringers of all abilities are welcome - Edric tries to ring something for everyone. A £2 donation is requested to cover refreshments, heating, and a tower donation.
Please let Edric [email] know if you are planning to attend.
April 8-bell Practice
They came from far and wide to participate in this practice. Twenty-four ringers had a go at call changes, Plain Hunt Triples, Grandsire Triples, Stedman Triples, Middlesex Bob Triples, Single Oxford Bob Triples, and Double Norwich Court Bob Major.
The towers represented included Atcham, Baschurch, Broseley, Calverhall/Ightfield, Clive, Codsall, Edgmond, Hodnet, Llangollen, Market Drayton, Newport, Oswestry, Shrewsbury, Wem, Whitchurch, and Wrockwardine.
Thanks go to John Powell for allowing use of the bells.
2006 Quarter Peals
2006 was the 80th anniversary of the founding of the Shropshire Association. To mark the occasion the members were challenged to ring more than 80 quarter peals; to ring a quarter peal in every tower in the Association area; and to involve at least 80 Association members. This challenge was very successful and led to the resurgence of quarter peal ringing in the Association. Every year since 2006 at least 100 quarters have been rung at Association towers by bands in which Association members made up at least half the band, with 218 quarters being rung in 2014.
Details of the quarter peals rung in 2006 are now available from the quarter peals index page. The details of the quarters are based on the listing of quarter peals in the 2006 Annual Report, and the data is drawn from BellBoard and from The Ringing World. Only the date and tower are available for quarter peal number 14. The webmaster would be pleased to know of any corrections which should be made.
Learning the Ropes at Lilleshall
Congratulations to Fiona and Julie for achieving Learning the Ropes Level 1 (Fiona) and 2 (Julie).
Learning the Ropes (LTR) is a structured, progressive scheme to learn the art of bell ringing – similar to music grades or karate belts. More details of the scheme can be found at http://www.learningtheropes.org/. If you are interested in how LTR can be used in your tower then please contact Matt Lawrence [email]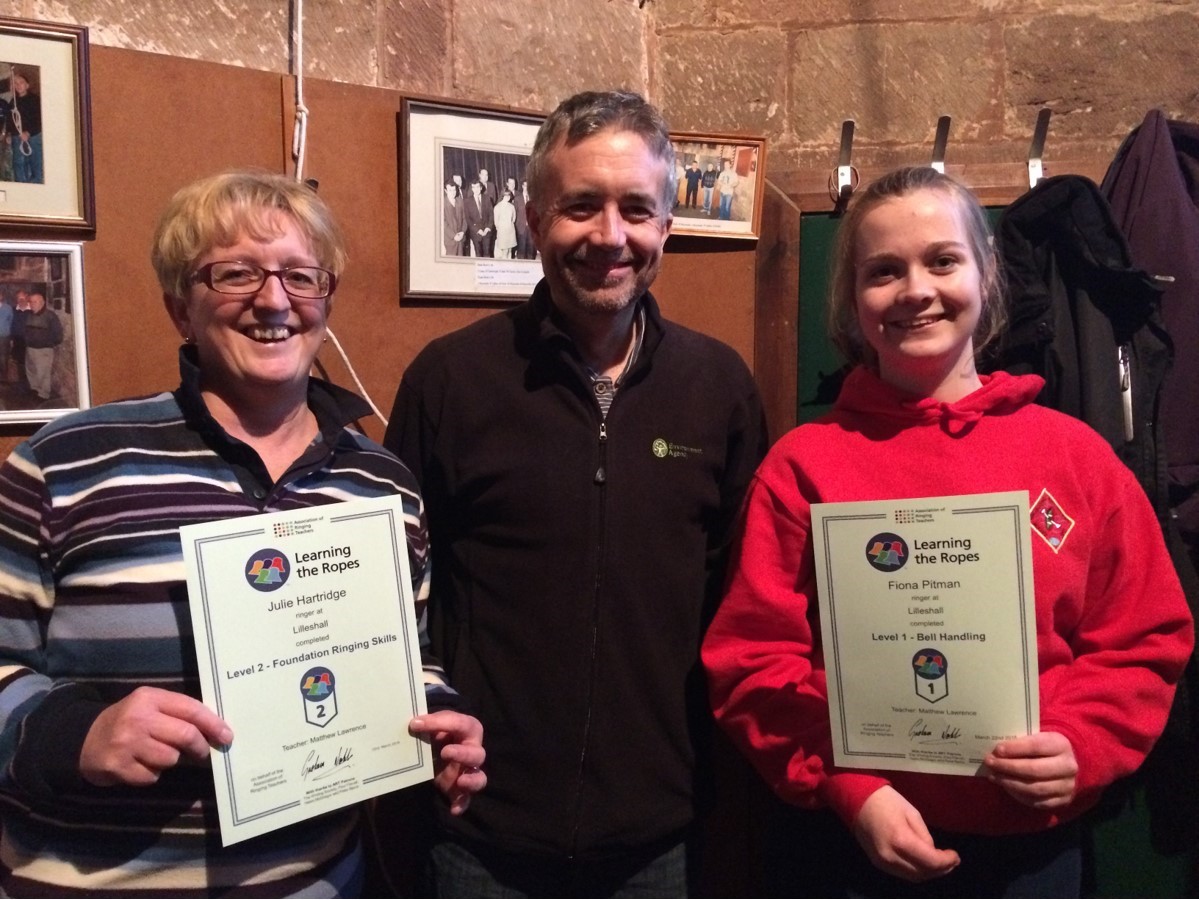 Julie and Fiona receiving certificates, with proud teacher Matt.
Words by Matt Lawrence
Photo by Libby Emery
Shropshire Ringers Go Continental
Ten years ago there were no bells on Continental Europe that were hung in the English style, and about 95% of all world towers with bells hung in this way are in England. But in 2008 a new English-style ring of eight bells was installed in Dordrecht, Holland, and for some ringers these have become a desirable destination for a weekend trip. They are something of a curiosity because the impetus for installing the bells was a Dutchman named Paul de Kok who was somehow inspired to learn to ring in the English way when a teenager. He really 'got the bug', taught his son Harm Jan and daughter Thirza, and all have become extremely competent bellringers. In cooperation with the local council in Dordrecht, the bells are installed in a building in the grounds of the Grote Kerk (Great Church), and Paul has complete control of the use of the bells. They can barely be heard outside the building so ringers can indulge themselves, and ring 24/7 if the wish! They are purely a secular ring, rung for the pleasure of the ringers, and are not rung for any services.
Although Paul and his family often visit England to satisfy their appetite for ringing, they also welcome visiting groups to go to Dordrecht – this then gives them the opportunity to enjoy their own bells.
A couple of years ago one of our Edgmond ringers, Bill Deason, thought it would be a good idea to organise a trip for some of his Edgmond, and other Shropshire ringing friends. He enquired about the availability of the bells to find that there was a waiting list - the earliest date we could go would be March 2018, so plans began to take shape.
Then in 2016/17 an appeal was launched to install a new ring of bells in St George's Memorial Church, at Ypres, Belgium. This Church was built, complete with tower, after the First World War as a memorial to the war dead, but no bells were installed at that time. But the approach of the 100th anniversary of the end of the war provided the stimulus to raise the money and install the bells as a tribute to those who died in that terrible war, and they were duly hung and commissioned in remarkably short order in September/October 2017. It seemed like too good an opportunity to miss, so our planned trip to Dordrecht was extended to include the new bells at Ypres.
On 9 March eighteen ringers from Shropshire (plus ten-month-old baby Enid) arrived in Dordrecht. We were warmly welcomed by Paul and his family. They have made something of an art form of welcoming visiting ringers and we were no exception – they organised our accommodation and our meals and gave us a wonderful experience. We are most grateful.
With the heaviest bell weighing only 1.5 cwt the bells are very light compared to most church bells, and small bells are often quite difficult to ring, but these have been cleverly hung and are relatively easy. Over the next day and a half, we made very good use of them and succeeded in completing a full peal, and four quarter peals, and with everyone ringing in at least one of these. The full peal, of Cambridge Surprise Major, was the first ever rung by a resident Shropshire Association band outside the UK. The methods rung for the quarter peals were Grandsire Triples, Yorkshire Surprise Major, Amsterdam Surprise Major and Dordrecht Surprise Major, the latter two giving a polite nod to our host country!
Apart from ringing, another highlight of this visit was the climb up the huge tower of the Grote Kerk to see the 67 bells of the carillon, but especially to see and hear Boudewijn Zwart, one of the leading carillon players in Europe, play Rule Britannia for our benefit! The bells of the carillon range in size from less than 50 kg to approximately 10 tonnes and the whole installation is centuries old – an awe-inspiring experience. We were also able to go to the top of the tower and take in the view of Dordrecht and the river Rhine.
After the meal together on the Saturday evening, our own Paul Lewis gave a hearty vote of thanks to the de Kok family for their very warm welcome and their hospitality, and to Bill Deason who had masterminded the whole trip. Bill had put in a tremendous shift, planning and advising the rest of the group on travel and all other arrangements.
| | |
| --- | --- |
| Meal time in 't Klockhuys | View over Dordrecht from the church tower |
After more ringing and lunch on Sunday 11 March, the whole group set off by train from Dordrecht bound for Ypres, in western Belgium. After two changes of train and about 3 ½ hours we arrived there in early evening. An hour or so later we all assembled at the Menin Gate for the daily Last Post ceremony at 8pm. This took place with great reverence and dignity in front of a silent crowd of 200 to 300 people. It was good to see an air cadet band from a Yorkshire school taking part – children from British schools regularly feature in these ceremonies and hopefully through this will maintain the memory of all those who sacrificed their all.
After a meal and a good night's sleep, most of us had time to take in the sights of Ypres for an hour or so next morning. Ypres was almost completely destroyed in the first war, including the enormous 13th century Cloth Hall. Centuries ago Ypres was an important centre of the linen industry in Flanders and did much trade with England, and the Cloth Hall was the centre of this industry. After the war, the main square, including the Cloth Hall, and much of the city was rebuilt to the same plans and designs as before, and today is a very attractive place to visit. Today Ypres has the title 'city of peace' and is twinned with Hiroshima, another city which suffered the worst of warfare.
St George's church is full of plaques commemorating the fallen of regiments, or families or school Old Boys from the UK. It has a new vicar, a lady from England and she seems to be very active in reviving the fortunes of the church. Our slot for ringing the bells was from 11.30 till 1pm. The tower is small with room only for a light ring (tenor 6cwt) and there is not room in the ringing chamber for many people other than the eight ringers. We had a very enjoyable ring and I think did justice to the evocative venue. A local band is in training by experienced ringers from England and there is an ex patriate bellringer living in Ypres who has taken on the role of Tower Captain. They hope to be able to ring for Sunday services before too long.
After lunch with our hosts, we started to go our different ways. Some were staying on for a day or two to see more of the battlefields, some were returning by Eurostar and some flying home. This was a very memorable trip which was a privilege and a joy to be part of.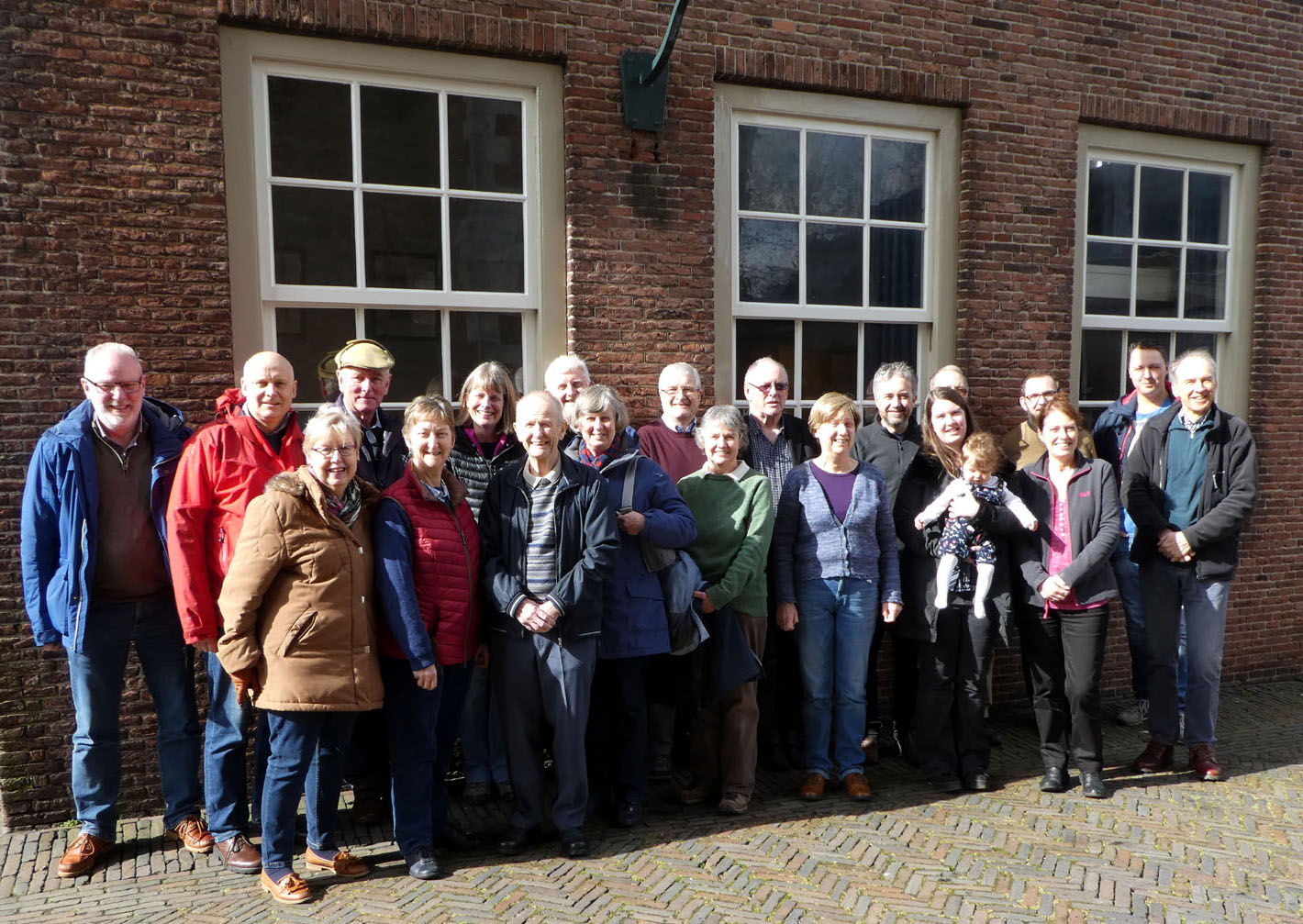 The group outside 't Klockhuys
Words by Edric Broom
Photos by Nick Green, Madeline Harris
Corporal Thomas William Belton
Corporal Thomas William Belton, 5th Bn., King's Shropshire Light Infantry and member of the St Chad's and St Alkmund's Society of Change Ringers, Shrewsbury, was killed in the Battle of Passchendaele (also known as the Third Battle of Ypres) on 22 August 1917, aged 25 years. In the battle, lasting 3 months, over half a million Allied and German soldiers died.
'Belton T W' is recorded on a memorial plaque (no. 112) in Tyne Cot Commonwealth War Graves Cemetery and Memorial to the Missing, close to the village of Passchendaele, near Ypres, along with other casualties from the KSLI. Three members of the Association visited the cemetery during the recent ringing trip to Holland and Belgium. The name 'Tyne Cot' is said to come from the Northumberland Fusiliers, who saw a resemblance between the many German concrete pill boxes on this site and typical Tyneside workers' cottages ('Tyne cots').
Thomas Belton worked as a gardener at Berwick Hall, which is between Shrewsbury and Leaton. He was the son of Charles Henry and Elizabeth Belton of Barwell, Leicestershire, and married Maggie Ruddick on 16 January 1916.
His first peal, rung for the Salop Archidiaconal Guild, was Grandsire Triples at Oswestry on 7 December 1912. He also rang in the first peal, Plain Bob Major, on the newly recast bells at St Chad, Shrewsbury on 19 November 1914. His name appears on the peal board at St Chad's recording this event.
Thomas Belton was one of two Shrewsbury ringers to die in the Great War. The other was Lance Corporal Tom Leonard Peel, 2nd Bn., South Wales Borderers, who died on 16 February 1917, aged 23 years. His body is buried in the St Marie Cemetery, Le Havre.
| | |
| --- | --- |
| Tyne Cot Cemetery | Thomas Belton's name recorded on plaque no. 112 |
Words and photos by Nick Green
March Association Practice
On a rather wintry evening ten Association members travelled to Tibberton for the monthly Association practice. As Tibberton has five bells Doubles methods/variations were the order of the day. The ringing included Plain Bob, Reverse Canterbury Pleasure Place, Grandsire, Stedman, Dixon's Bob, Tyne, and Rhubarb.
The next Association practice will be held on Saturday 14 April, from 7:00pm to 8:30pm, at Hinstock.
The ringing will be followed by an EGM (to discuss and vote on proposed changes to the BRF Rules) and a quarterly meeting.
Association Peal at Stoke St Milborough
The third Association peal of the year has been rung at Stoke St Milborough.
Shropshire Association
Stoke St Milborough - at the Church of St Milburga
On Saturday, 17 March 2018, in 2 hours and 58 minutes
A Peal of 5040 Grandsire Triples
Composed by J J Parker (12 part, 7th obs)
Tenor 16–2–21 in F#
| | | | | |
| --- | --- | --- | --- | --- |
| Cordelia Warr | Treble | | Gareth B R Jones | 5 |
| E Ann Williams | 2 | | Kevin M Price | 6 |
| Peter G Neil | 3 | | Andrew W Gordon | 7 |
| Adrian G Roberts | 4 | | Anthony J Freemont | Tenor |
Conducted by Kevin M Price.
Rung to welcome the Revd. Justin Parker as Rector of the Benefice.
1061
An Association Peal in the Netherlands
The second Association peal of the year has been rung at 't Klockhuys, Dordrecht.
Shropshire Association
Dordrecht, Netherlands - at 't Klockhuys
On Saturday, 10 March 2018, in 2 hours and 43 minutes
A Peal of 5056 Cambridge Surprise Major
Composed by C Middleton (H Johnson var.)
Tenor 1-2-7 in G
Ringing at Bicton Suspended
ART Module 2C at Edgmond
Text and photo by Alan Glover
February Surprise Major Practice
Ringing Remembers
Ringing for Peace: Armistice100
Safeguarding Update
Books For Bellringers
Jad Bienek
Shropshire Young Ringers
Tower Access Guidance Notes
PowerPoint Presentations for PR
VAT and Listed Places of Worship Grant Scheme
Peal Opportunities
Quarterly Newsletter
Association Monthly Surprise Major Practices
Training at Edgmond Ringing Centre
Committee Meeting
Newsletter Editor