Moreton Corbet, St Bartholomew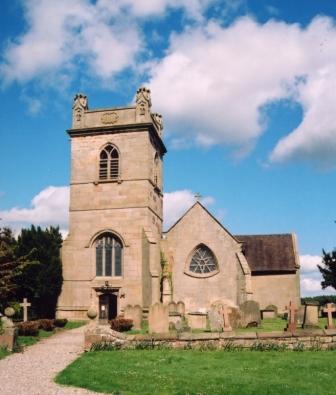 6 bells, tenor 9-1-3 in Bb SY4 4DW SJ 561232
Sunday: Special services only - check with tower correspondent
Monday: 6.30 - 8.00 May to September only; first Monday of the month at Shawbury; check with tower correspondent
All the bells were recast byJohn Taylor & Co. of Loughborough in 1924. They are hung in a high-sided frame (Pickford 6.1: A1, B6, C2, D3, E4, F5) and are fitted with Hastings stays.
The bells are rung from a gallery open to the nave and with access via a short enclosed staircase against the South wall. Interesting items in the ringing room include an original 1926 membership certificate for the Shropshire Association for F. Jones and photos of members attending the 1937 Association AGM.
There is parking within the churchyard. The church contains some intricately carved Corbet family chest tombs.
There are no facilities in the hamlet. Moreton Corbet Castle, an English Heritage property, stands next to the churchyard. The site has a ruined, late 12th century castle standing by the ruins of an Elizabethan manor which was captured during the Civil War and its roof removed after which it was abandoned.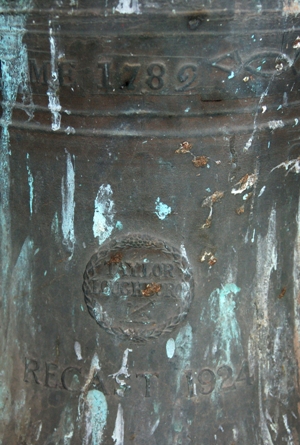 The second bell, with Taylor's foundry
mark and the date of the bell it replaced - 1782