Site last updated 14 August 2018
Welcome
The Shropshire Association covers the towers in the Salop Archdeaconry of the Lichfield Diocese, and is roughly the area north of the River Severn, from near Wolverhampton in the southeast to Selattyn in the northwest. The rest of Shropshire is in the Hereford Diocese.
If you would like to know more about bellringing click here www.cccbr.org.uk/what-is-bell-ringing/.
If you like to learn to ring please contact our secretary [
email
], or go along to a tower near you on a practice night.
Information about the towers in the Association, practice nights and Association events, and much else, can be found by following the links on the left or below.
Association Striking Competition 2018
The Association's Striking Competition will be held at Lilleshall on Saturday 8th September. The draw for the order of ringing will take place at 4pm and the results will be announced at about 6:30pm. Teas will be available during the event.
Car parking, the draw, tea, and the results will be at the Lilleshall Memorial Hall, Hillside, Lilleshall, TF10 9HG.
Bands can ring either 120 rows of call changes (to include Queens and Tittums), or 120 changes of a method. If a tower is entering more than one band, the first band must be made up entirely of Sunday Service ringers and the second band must include at least four ringers who did not ring in the first band.
A full listing of the Rules can be found by using the link on the left.
Three trophies are awarded - the Ernest Willcox Trophy for the band with the fewest faults; the Call Change Trophy for the call change band with the fewest faults; and the Charles Allmand Shield for the best placed of the other towers that have not won any of the three awards in the previous two competitions
In order to help with the planning of the catering, would towers please let Jad Bienek [ email ] know by Wednesday 5th September how many ringers will be attending.
RAF100 Quarter Peal Week
2018 is the 100th anniversary of the formation of the RAF and it was suggested at the July Association Quarterly Meeting to ring as many quarter peals as possible in Shropshire in the eight days leading up to, and including, Battle of Britain Sunday (Sunday 9th to Sunday 16th September) to commemorate this centenary. Shropshire played, and continues to play, a major role in the RAF and there were numerous stations established in Shropshire during WW2.
Tower correspondents of the towers close to the twelve major RAF stations in Shropshire (ten in the Shropshire Association area) have been contacted, and it is hoped that all quarters rung during that week can be for the centenary, with relevant footnotes.
Obviously other towers can participate during this period and ringers from any towers can be included. It is hoped, however, that the twelve main RAF stations will be represented. There were about 25 subsidiary airstrips etc which could also feature, e.g. Montford.
More details about airfields in Shropshire can be found at www.shropshirehistory.com/military/airfields.htm
Stations in the Shropshire Association area; and their closest tower(s):
RAF Atcham 1941 – 1946; Atcham
RAF Cosford 1938 - present . Now training base/museum; Albrighton
RAF High Ercall 1941 – 1964; High Ercall
RAF Hinstock (aka HMS Godwit) 1941 – 1946; Hinstock
RAF Peplow/Child's Ercall 1941 – 1946; Stoke-on-Tern/Hodnet
RAF Rednal 1942 – 1962; Whittington
RAF Shawbury 1917-present. Now RAF flight training school; Shawbury/Moreton Corbet
RAF Sleap 1943 - 1964. Now Shropshire Aero Club; Wem/Clive
RAF Tern Hill 1916 - 1976. Now Army training base; Market Drayton
RAF Tilstock 1942 - 1946. Now parachute club. Prees/Ightfield/Calverhall
Stations in the Hereford Guild:

RAF Bridgnorth/Stanmore Nov. 1939 - Feb. 1963.
RAF Condover August 1942 - June 1945.

When submitting quarter peals rung for this occsaion to Bellboard, please link the quarters to the event 'Shropshire - RAF 100' and tick Box Y for 'linked performances/collate together/withhold publication'. The details will be sent to The Ringing World on Monday 17th September, so please submit details to Bellboard promptly.
More First Quarter Peal Congratulations
Congratulations to Emma Bentley of Atcham who has rung her first quarter peal.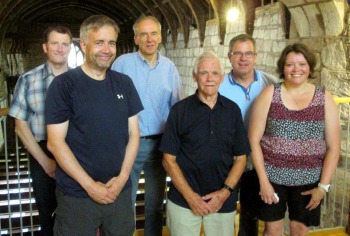 Photo by Steve Evans
Support Your Association with SACBR Clothing
We can now offer members a range of items embroidered with the SACBR logo. These are embroidered to order: contact Biff Patterson [ email ] for details or to place an order.
COLOUR
The background colour for 'corporate' events is burgundy (as shown) but feel free to choose a different background for personal use. Check availability but navy or black are obvious options.
PRICES
Polo shirts, as worn by those manning the Lichfield Diocesan Mobile Belfry at Newport Show, £15. Biff has one lady-fit medium in stock. If you would normally buy small, this is for you.
Sweat shirts £17.50 Rugby shirts £25.
If you supply a garment it can be embroidered for a cost of £6.
SIZING – READ CAREFULLY PLEASE
The polo shirts are pure cotton, wash very well, BUT are skimpy. Biff suggests going up one or even two sizes on what you would normally select. Available in standard rectangular shape (men or unisex), quite long in the body; or lady-fit, which is shorter and more shaped. Choose from M, L, XL, XXL, XXXL.
Sweat shirts are only available unisex: S, M, L, XL, XXL, XXXL.
Rugby shirts are available in men's or women's: S, M, L, XL, XXL, XXXL.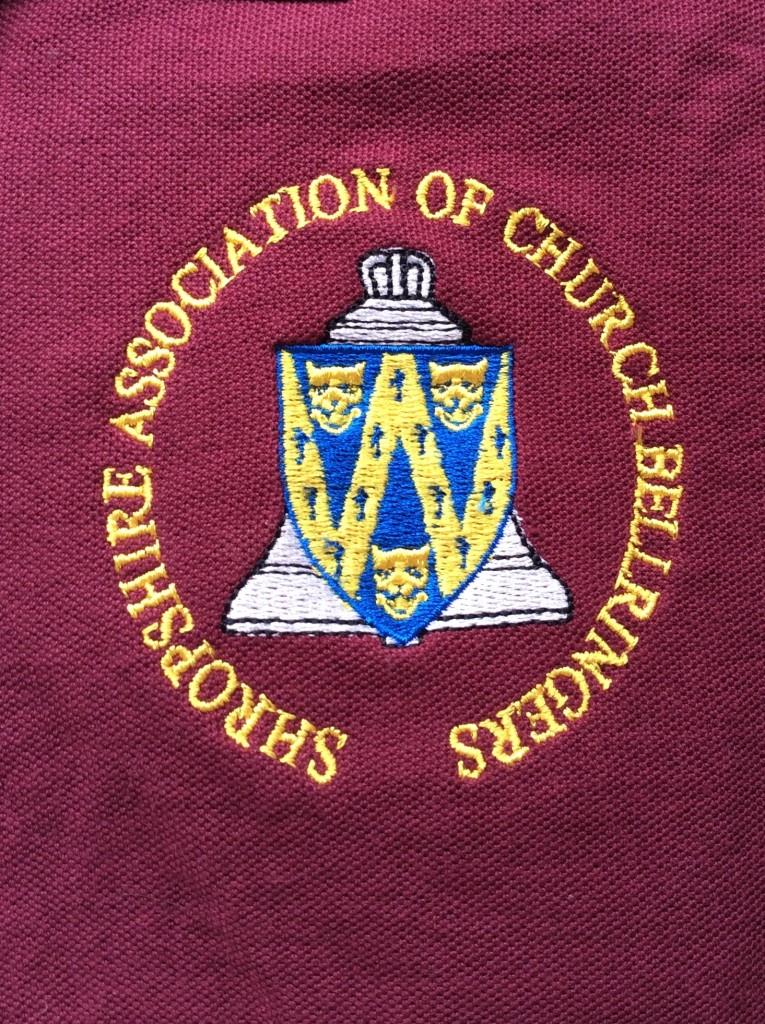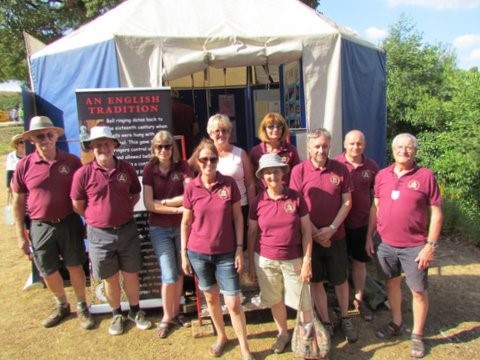 Photos by Biff Patterson, Edric Broom
August 8-Bell Practice
Twenty ringers turned up at Hodnet for the August 8-bell practice. Towers represented included Atcham, Baschurch, Clive, Codsall, Edgmond, Hodnet, Lilleshall, Market Drayton, Wellington, Wem, Whitchurch, and Wrockwardine. The ringing included Plain Hunt Triples, Plain Bob Triples, Plain Bob Major, Grandsire Triples, Stedman Triples, Single Oxford Bob Triples, and Double Norwich Court Bob Major.
Thanks go to John Powell for allowing the practice; Karen Powell for opening up the church; and those more experienced ringers who came along to provide encouragement and expertise.
Honorary Life Membership
The Association rules state that:
The committee may propose for election at an AGM as honorary life members anyone who has rendered exceptional service to the Association. Notice of such a proposition must be given at the October business meeting.
Any member of the Association can nominate someone for Honorary Life Membership of the Association. Nominations, together with brief reasons why you think the person you are nominating ought to be considered, must reach the committee by 31st August 2018. The committee will consider all nominations for the award at its meeting on 2nd September 2018.
Some guidance to help members decide whether someone has given exceptional service to the Association can be found here. These guidelines are not prescriptive and should not be considered as a checklist that the committee uses in its deliberations.
Armistice100 - an update
The Central Council of Church Bellringers has issued the following statement about ringing on Remembrance Sunday.
'The ringing community may be understandably confused regarding alternative requests for ringing on 11th November this year. I hope that the following provides some clarification.
"Ringing Remembers" is the campaign officially endorsed and sponsored by HM Government for (a) recruiting new ringers and (b) ringing open at 12:30 pm on Sunday 11th November - aligning with the published agenda for processions and marches in celebration of peace. CCCBR has been working hard with government officials to finalise and announce plans for ringing on the centenary of the Armistice, but we were under strict embargo until Friday 13th July, which is when the media release was published.
"Battle's Over" is the private initiative of Bruno Peek, MBE. Bruno has demonstrated energy, drive and passion to put together a compelling programme of events on the evening of 11th November, inviting ringing at 7:05 pm. Although his initiative gained early support from various military organisations and CCCBR, it is not backed by central government or Buckingham Palace.
Over the past year CCCBR representatives have been trying to align the varying requests for ringing on 11th November (we have also had approaches from the British Legion and other bodies), but this has not proved possible. Nevertheless, knowing the national mood to acknowledge this centenary, CCCBR encourages all ringers to respond as they see fit, taking into account the wide variety of local circumstances. Ringing open at or around 12:30 pm is the ideal and recommended option, but any time that afternoon / evening is also supported. General ringing, quarter peals, peals - let's do it!
To quote Tennyson – .. "Ring out old shapes of foul disease; Ring out the narrowing lust of gold; Ring out the thousand wars of old, Ring in the thousand years of peace".
Vicki Chapman & Christopher O'Mahony.
CCCBR Ringing Remembers Project Co-ordinator & CCCBR President.'
Meole Brace Summer Outing
On Thursday, July 19th, eleven ringers travelled to Bridgnorth, where we rang on the eight bells of St. Mary Magdalene before catching the first train to Bewdley. We had been warned that, because of the long spell of hot, dry weather, the steam engines would probably not be running and so were delighted to hear the whistle of a steam locomotive as we approached the station. At Bewdley, we rang the eight bells of St. Anne's and then walked down to the river where we enjoyed lunch, sitting out in the sunshine at the Cock and Magpie.
On the way back, we alighted at Arley where, after walking up a steep road, we rang at St. Peter's, Upper Arley. The large ringing chamber has a door straight on to the roof, providing a pleasant breeze and allowing us to appreciate the lovely views of the Severn Valley. We caught the train back to Bridgnorth, pulled by the diesel engine the 'Ark Royal', and rang at St. Leonard's. We ended the day with dinner at The Old Castle Inn, Bridgnorth.
Our thanks are due to Michael Carding who was in charge of the ringing.
| | |
| --- | --- |
| | |
| Meole Brace ringers at Bridgnorth | Lunch time |
Report by Vicki Sivess
Photos by Karen Hampton
July Association Practice and Quarterly Meeting
The Webmaster is very grateful to Jad Bienek (Association Secretary) for providing the following notes about the July Association practice and Quarterly Meeting, held at Atcham.
The Ringing Master is very grateful to Biff Patterson (Report Editor) for running the practice and chairing the meeting.
Number of ringers attending: 18; number staying for the meeting: 15.
Methods rung: Plain Bob Doubles, Grandsire Doubles, Stedman Doubles, Plain Bob Minor, St Clement's College Bob Minor, Cambridge Surprise Minor.
Towers represented: Atcham, Baschurch, Codsall, Edgmond, Market Drayton, Oswestry, Shrewsbury.
New members elected: Peter Henderson, Mark Bushby - both from Tibberton.
Non-Resident Life Members whose election prior to a peal at Sibbertoft was ratified - Alistair M Donaldson, Anne P Cook.
100+ Club draw winners: Geoff Harding (£50), Carol Edwards (£25), Chris Ayres (£15), Gail and Matt Lawrence (£15), Biff Patterson (£12).
Raffle prizes of biscuits and homemade damson jam were won by Steve Evans and Karen Compton.
Refreshments of tea, coffee, and cake were provided to the grateful gathering (and one passing cyclist) by the Atcham ringers.
The next Quarterly meeting will be held on Saturday 13 October at Broseley.
The next Association practice will be held on Saturday 11 August, from 7pm to 9pm, at St Mary's church in Shrewsbury, and will be a joint practice with ringers from the Church Stretton District of the Hereford Guild.
Two Peals in a Day (1)
The Webmaster has been taken to task by the Ringing Master for not highlighting the following two peals.
Shropshire Association
Leaton, Shropshire - at the Church of the Holy Trinity
On Saturday, 16 June 2018, in 2 hours and 53 minutes
A Peal of 5040 Doubles
11 methods: Four extents each Plain Bob, Reverse Canterbury Pleasure Place,
St Osmund, St Remigius, Huntley, Eynesbury, St Simon's Bob,
St Martin's Bob, St Nicholas, Winchendon Place, and a 240 Grandsire.
Tenor 14-2-0 in G
Adrian G Roberts
Treble
E Ann Williams
2
Gareth B R Jones
3
Kevin M Price
4
Andrew W Gordon
Tenor
Conducted by Kevin M Price.
1064.RW5592.625 329.vi.2018
Shropshire Association
Upton Magna, Shropshire - at the Church of St Lucia
On Saturday, 16 June 2018, in 2 hours and 47 minutes
A Peal of 5040 Minor
7 methods: One extent each of Cambridge Surprise, Kent Treble Bob,
Oxford Treble Bob, St Clement's College Bob, College Bob,
Grandsire, Plain Bob
Tenor 8-0-12 in Ab
| | | | | |
| --- | --- | --- | --- | --- |
| E Ann Williams | Treble | | Gareth B R Jones | 4 |
| Elizabeth S Menhinick | 2 | | Kevin M Price | 5 |
| Adrian G Roberts | 3 | | Andrew W Gordon | Tenor |
Conducted by Kevin M Price.
Rung in memory of Faye Smith,
a ringer at this tower, who died on 27th April 2018.
1065.RW5592.625 329.vi.2018
Two Peals in a Day (2)
Two peals were rung, at Norton in Hales and Prees, on one of the hottest days this year.
Shropshire Association
Norton in Hales - at the Church of St Chad
On Saturday, 7 July 2018, in 2 hours and 43 minutes
A Peal of 5040 Grandsire Triples
Composed by J J Parker (12 part, 7th obs)
Tenor 11–0–17 in F#
Shropshire Association
Prees, Shropshire - at the Church of St Chad
On Saturday, 7 July 2018, in 2 hours and 48 minutes
A Peal of 5040 Minor
7 methods: One extent each Cambridge Surprise, Oxford Treble Bob,
St Clement's College Bob, College Bob, Grandsire,
Reverse Canterbury Pleasure Place, Plain Bob
Tenor 11-2-18 in F#
Improve Your Ringing At Tulloch
June Surprise Major Practice
Ringing Remembers
Ringing for Peace: Armistice100
Safeguarding Update
Books For Bellringers
Jad Bienek
Shropshire Young Ringers
Tower Access Guidance Notes
PowerPoint Presentations for PR
Peal Opportunities
Quarterly Newsletter
Association Monthly Surprise Major Practices
Training at Edgmond Ringing Centre
Committee Meeting
Newsletter Editor