Site last updated 16 March 2018
Welcome
The Shropshire Association covers the towers in the Salop Archdeaconry of the Lichfield Diocese, and is roughly the area north of the River Severn, from near Wolverhampton in the southeast to Selattyn in the northwest. The rest of Shropshire is in the Hereford Diocese.
If you would like to know more about bellringing click here.
If you like to learn to ring please contact our secretary [
email
], or go along to a tower near you on a practice night.
Information about the towers in the Association, practice nights and Association events, and much else, can be found by following the links on the left or below.
Third Wednesday Morning Training at Edgmond - March
The next Third Wednesday of the Month morning practice, will be held at Edgmond Ringing Centre on Wednesday 21st March, from 10am to 12:30pm.
Ringers of all abilities are welcome - Edric tries to ring something for everyone. A £2 donation is invited to cover refreshments, heating, and a tower donation.
Please let Edric [email] know if you are planning to attend.
An Association Peal in the Netherlands
The second Association peal of the year has been rung at 't Klockhuys, Dordrecht.
Shropshire Association
Dordrecht, Netherlands - at 't Klockhuys
On Saturday, 10 March 2018, in 2 hours and 43 minutes
A Peal of 5056 Cambridge Surprise Major
Composed by C Middleton (H Johnson var.)
Tenor 1-2-7 in G
| | | | | |
| --- | --- | --- | --- | --- |
| Gail K Lawrence | Treble | | Edric W Broom | 5 |
| Mark Adams | 2 | | William S Deason | 6 |
| Gillian R Glover | 3 | | Matthew Lawrence | 7 |
| Nicholas J Green | 4 | | Maurice G Ingram | Tenor |
Conducted by Matthew Lawrence.
First peal for the Association outside the UK by a resident band.
1060
Ringing at Bicton Suspended
Ringing (Sundays and practices) at Bicton is suspended until further notice.
ART Module 2C at Edgmond
Edgmond Ringing Centre was the venue for the latest Association of Ringing Teachers Course to be held in our area. It was Module 2C - Teaching Elementary Change Ringing, and again had local ringer Paul Lewis as Tutor. The day long course is the third, and currently last, of the three offered by ART, following on from those provided earlier at Edgmond: Module 1- Teaching Bell Handling, and Module 2F - Teaching from Rounds to Plain Hunt. A number of local ringers have attended all three courses and it is to be hoped that this will result in more efficient teaching in our towers, with better progress and retention.
SACBR members attending were Ginette Pardoe (Broseley), Neil Bragg and John Maclean (Coalbrookdale), Sue and Derek Dancey (Bicton), Biff Patterson and Gill Glover (Shrewsbury), and Liz Menhinick (Unattached). Other ringers attending came from various exotic locations as far away as Herefordshire.
The day followed the standard ART format of Power Point presentations leading into sessions on the Edgmond simulator putting the theory into practice. A wintry day meant the breaks for hot drinks and lunch were particularly welcome. There was much of interest in the material covered, especially a number of exercises and methods designed to break down into small steps the transition between Plain Hunt and Plain Bob.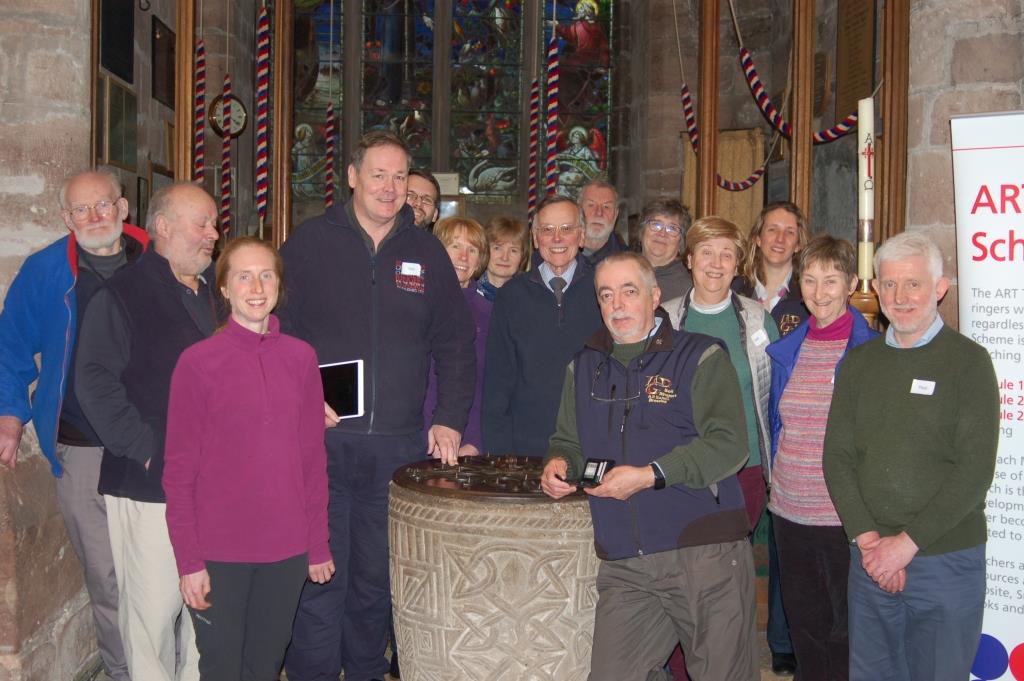 Course participants
Text and photo by Alan Glover
February Surprise Major Practice
A select band of ten ringers gathered at Edgmond for the February Surprise Major practice. While waiting for an eighth ringer to arrive, a touch of Dixon's Bob Minor and Little Bob Minor was rung. This was followed by attempts at Rutland, Bristol, 8-spliced, and Dordrecht Surprise Major.
Thanks to Mark Adams for his hospitality.
The next Surprise Major practice will be held on Friday 23 March at High Ercall.
February Association Practice
An enthusiastic band of twelve ringers attended the Association practice at Dawley. They enjoyed themselves by ringing call changes, Mexican waves, Grandsire Doubles, Stedman Doubles, Cambridge Surprise Minor, St Clement's College Bob Minor, Dixon's Bob Minor, and Rhubarb.
Peter Woollam raised £18 for the Bell Restoration Fund by running a raffle. The winners of the prizes of wine, chocolate confectionery, and tea were Nick Green, Kathryn Greaves, and Peter Woollam. Peter generously shared the sweets with those present.
Thanks to Simon Rice and the Dawley band for their hospitality.
The next Association practice will be held at Tibberton on Saturday 17th March, from 7pm to 9pm. All ringers are welcome.
February Training Morning
The first Association training morning of the year took place at the Edgmond Ringing Centre. Lisa Basden, Emma Bentley, Elaine Evans and Steve Evans, all from Atcham were the students. The ringing concentrated on Plain Bob Doubles, but also included Stedman Doubles, Grandsire Doubles, and Cambridge Surprise Minor.
Tony Freemont, the Association's Training Officer was helped during the morning by Mark Adams, Jacqui Barden, Edric Broom, John Burton, Rob Davis, Gill Glover, Kathryn Greaves, Madeline Harris, Peter Neil, Ginette Pardoe, Biff Patterson, and Cordelia Warr.
Refreshments were available, as is usual on these occasions.
Thanks to Edric and Mark for allowing the use of the bells.
The next Association training morning will be held at Edgmond on Saturday 28th April. If you would like to participate please contact Tony Freemont [email].
February 8-bell Practice
This was held at Hodnet and seventeen ringers came along. The ringing included Call Changes, Grandsire Triples, Plain Bob Triples and Stedman Triples.
The towers represented included Atcham, Baschurch, Edgmond, Hodnet, Market Drayton, Meole Brace, Shrewsbury, Whitchurch, and Wrockwardine.
Thanks to John Powell for allowing use of the bells.
January Surprise Major Practice
Thirteen members travelled to Wem to participate in this practice. Methods rung included London, Lincolnshire, Superlative, and 6-spliced.
Thanks to Gareth Jones and Karen Compton for organising use of the bells.
The next Surprise Major practice is scheduled to be held on Friday 23 February, at a venue to be organised.
Ringing Remembers
The Central Council of Church Bell Ringers (CCCBR) is working with the Department for Communities and Local Government (DCLG) and the Big Ideas Company on a project called 'Ringing Remembers' to recruit 1400 ringers in memory of the 1400 ringers who laid down their lives during World War 1.
You can find out more here: cccbr.org.uk/2017/12/22/ringing-remembers-project-update/
Every learner throughout this campaign year is entitled to join 'Ringing Remembers' by entering their details here: ringingremembers@bigideascompany.org or here bigideascompany.org/project/ringingremembers/
You and your band are encouraged to work with your church, schools, other organisations, and local media to raise the awareness of ringing within your community. You might be able to recruit some new ringers or even persuade some lapsed ringers to return to the belfry.
Ringing for Peace: Armistice100
Sunday 11 November 2018 marks the centenary of the signing of the armistice which led to the end of the First World War. The Central Council is making plans to make bellringing an integral part of the commemorations on that day.
It is hoped that there will be as much ringing as possible - half-muffled in the morning and open later in the day. Local custom will dictate exactly what happens.
Ringers should coordinate with their church and work together on making the day very special. The more prominence for ringers and ringing the better, as it will no doubt have a positive effect in terms of raising awareness for potential new ringers.
There is also an opportunity to ring as part of the large-scale British project, 'Battle's Over – A Nation's Tribute'. 1,000 beacons will be lit across the UK in the evening; this organisation (fully backed by all the key military) would like to encourage 1000 towers to ring at 7.05pm on the day, if this fits with local arrangements. To find out more about Battle's Over and sign up to ring at 7.05pm please email your details to: brunopeek@mac.com
The First Association Peal of 2018
The first Association peal of the year has been rung at St Mary's church in Shrewsbury. The last time a peal of Stedman Caters was rung for the Association was in 1976, to mark the 50th anniversary of the founding of the Shropshire Association. Neil Bennett is the only ringer to ring in both those peals.
A total of sixteen peals of Stedman Caters have been rung for the Association. The first was the second peal for the Association and was rung at Coalbrookdale during the visit of Princess Mary to Shropshire in November 1926.
Shropshire Association
Shrewsbury, Shropshire - at the Church of St Mary the Virgin
On Saturday, 20 January 2018, in 3 hours and 29 minutes
A Peal of 5007 Stedman Caters
Composed by Andrew S Hudson
Tenor 19-2-8 in Eb
Association Practice - March 2018
Association Practice and 2017 AGM - January 2018
The Sustainability of English Churches and Cathedrals
Safeguarding Update
Books For Bellringers
Jad Bienek
Shropshire Young Ringers
Tower Access Guidance Notes
PowerPoint Presentations for PR
VAT and Listed Places of Worship Grant Scheme
Peal Opportunities
Quarterly Newsletter
Association Monthly Surprise Major Practices
Training at Edgmond Ringing Centre
Committee Meeting
Newsletter Editor