Site last updated 24 June 2019
Welcome
The Shropshire Association covers the towers in the Salop Archdeaconry of the Lichfield Diocese, and is roughly the area north of the River Severn, from near Wolverhampton in the southeast to Selattyn in the northwest. The rest of Shropshire is in the Hereford Diocese.
If you would like to know more about bellringing click here www.cccbr.org.uk/what-is-bell-ringing/.
If you like to learn to ring please contact our secretary [ ], or go along to a tower near you on a practice night.
Information about the towers in the Association, practice nights and Association events, and much else, can be found by following the links on the left or below.
Next Association event:
28 June: Surprise Major Practice, 7:30pm to 9:00pm at High Ercall
Association Outing 2019
John Neal arranged an excellent outing to the Pershore/Evesham area for the Shropshire Association. About 24 ringers from Shropshire and other Associations enjoyed ringing at Pershore, Great Hampton, Evesham, Fladbury, and Upton Snodsbury. They also rang at Crowle. Call changes and Grandsire were rung at every tower. Other methods rung included Stedman, Bristol Surprise, Cambridge Surprise, London Surprise, and Superlative Surprise. At least two ringers rang on 12 bells for the first time – well done to them. Crowle was the mystery tower of the day. The ringing there was enlivened when a rope slipped wheel. The sound of the bells is nearly as loud inside the ringing room as outside the church.
The weather was rather too wet for eating outside, so those who had brought picnic lunches were allowed to eat them inside the redundant church of St Lawrence, which is situated in the grounds of Evesham Bell Tower.
Thanks go to John Neal for his organisational skills, and to all the incumbents and bands of the towers visited.
First Peal Congratulations
Congratulations to Andy Digby of Meole Brace, who rang his first peal to mark the 150th anniversary of Holy Trinity church, Meole Brace.
Shropshire Association
Meole Brace - at the Church of the Holy Trinity
On Saturday, 15 June 2019, in 3 hours 6 minutes
A Peal of 5040 Plain Bob Triples
Composed by Roger Bailey
Tenor 7-1-7 in Bb
| | | | | |
| --- | --- | --- | --- | --- |
| Gail K Lawrence | Treble | | Peter Neil | 5 |
| Gillian R Glover | 2 | | Michael Carding | 6 |
| E Ann Williams | 3 | | Matthew Lawrence | 7 |
| Nicola J Galton | 4 | | Andrew P Digby | Tenor |
Conducted by Matthew Lawrence.
First Peal - Tenor.
First Peal for the Shropshire Association - 6.
Rung for the 150th Anniversary of Holy Trinity, Meole Brace
and for the 50th Anniversary of the bells.
1082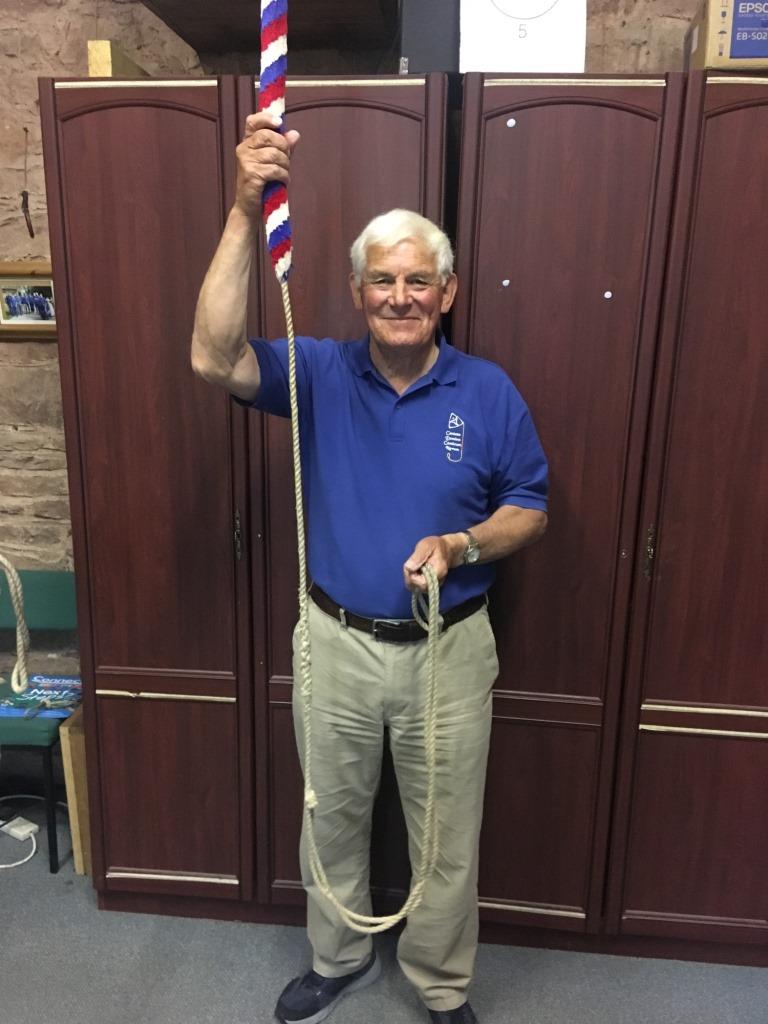 Andy Digby
Photo by Matt Lawrence
June 8-Bell Practice
Weddings, peals, holidays…they all led to a reduction in the usual number of ringers at the 8-bell practice held at Hodnet. Twelve ringers practised (with varying degrees of success) call changes, Grandsire Triples, Plain Bob Triples, Plain Hunt Major, Plain Bob Major, Stedman Triples.
Thanks to John Powell for allowing use of the bells.
May Surprise Major Practice
Once again Wem was the location for the Surprise Major practice. Fourteen ringers participated, ringing Bristol, Cambridge, London, Yorkshire, 6-Spliced, and an attempt at 8-Spliced
Thanks to Gareth Jones for organising the use of the bells.
Suspension of Ringing at Moreton Corbet
There will be no ringing at Moreton Corbet after 16th June 2019, until October 2019. Ths is because of construction work at the church.
Monday practices will be held at Stanton (at Shawbury on the first Monday of the month).
SACBR Annual Report and Handbook for 2018/19
The Committee have received three letters of complaint regarding the content of the Librarian's report in current Annual Handbook and Report. We acknowledge that inadequate consideration was given to the impact that the penultimate paragraph might have had on readers and it should not have been included in the report.
The Librarian's report also acknowledges contributions from Alan Glover. We would like to clarify that it is the two passages in italics only which are attributed to him.
We will be reviewing our editorial procedures for future Reports. Please accept our sincerest apologies for any upset this has caused.
SACBR Committee
May Association Practice
Stanton-upon-Hine Heath was the venue for the May Association practice. In the absence of the Ringing Master, a former Ringing Master cajoled the thirteen ringers who attended into ringing Reverse Canterbury Pleasure Place Doubles, St Simon's Bob Doubles, Plain Bob Minor, St Clement's College Bob Minor, Double Court Minor, Hereward Bob Minor, Cambridge Surprise Minor, Norwich Surprise Minor, Cambridge/Beverley/Surfleet Surprise Minor, and Kent Treble Bob Minor.
Sadly, a broken stay brought the ringing to a close a little earlier than expected.
Peter Woollam raised £17 for the Bell Restoration Fund by running a raffle. The prizes of wine and chocolates were taken home by Lisa and Mark.
Thanks to Claire Unsworth for her hospitality.
The June Association practice is the outing to the Evesham area on 8th June, see below for details. All ringers are welcome.
May 6-Bell Practice
This was held at Atcham with thirteen ringers attending. Those present practised Plain Bob Doubles and Minor (though not at the same time), Grandsire Doubles, Reverse Canterbury Pleasure Place Doubles, St Simon's Bob Doubles, St Martin's Bob Doubles, and Cambridge Surprise Minor.
Thanks to the Atcham band for their hospitality.
April Association Training Morning
The second Association training morning of the year took place at the Edgmond Ringing Centre on Saturday 27th April, and was rather short of trainees, perhaps due to the proximity to Easter. The students were Darren Swancott (Broseley), Shaun Greenfield (Shifnal) and a visitor, Nick, who is a learner at Ludlow. They aimed to make progress with one or more of: handling, call changes, plain hunting, Plain Bob Doubles and Plain Bob Minor, and all departed well satisfied. The morning finished with a course of Cambridge Surprise Major, requested by Ginette.
Matt Lawrence, the Association's Master, directed proceedings and was helped during the morning by Mark Adams, Edric Broom, John Burton, Bill Deason, Nick Green, John Neal, Ginette Pardoe and Biff Patterson.
The superior refreshments that are usually provided by Madeline were sorely missed but we made do with shop-bought biscuits!
Report by Biff Patterson
Shropshire Ringers Go Continental Again
Last year, a group of us paid a flying visit to Ieper, tagged on to a weekend in Dordrecht. Although some of the party stayed an extra day, there is so much to see and do we soon decided it would be good to go back and spend a bit more time exploring the area. Once again Bill Deason was the driving force, and soon we had a hotel booked and ringing slots organised. We felt it would be fitting to dedicate our peal and quarter peal attempts to those ringers from Shropshire who gave their lives in the two World Wars, and with this in mind we applied to take part in the Last Post ceremony at the Menin Gate and lay a wreath.
Twelve of us set off on Friday 5th April and met up in what was to become our most visited restaurant for a convivial start to the trip. Saturday saw a successful peal on the easy to handle and lovely sounding bells of St George's Memorial Church. After a delicious lunch provided by the local ringers, some of us spent the afternoon helping them to practise call changes and plain hunting. In the evening we gathered at the Menin Gate for the ceremony. The wreath was laid by the Master of the Association accompanied by two past Masters and the youngest member of the group.
Three quarter peals were scored over the next two days, the last being specially arranged for Liz Millward, who had spent her birthday looking after us. By the time we headed home on Monday afternoon, we had all rung a peal or quarter, most had visited battlefields and cemeteries, walked the ramparts, sampled the local beer and eaten a lot of chocolate.
Thanks from us all to Bill for making it happen, Liz for her excellent hospitality, and especially remembering all those brave young men.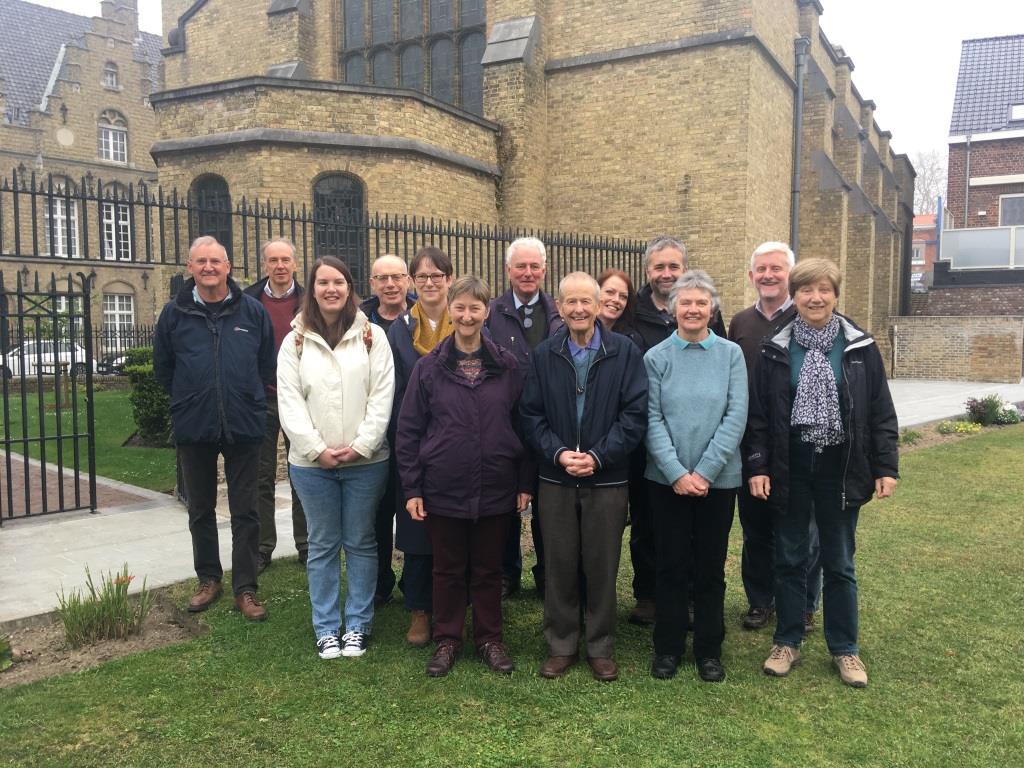 The tourists outside St George's church, Ieper
100+ Club
Support Your Association with SACBR Clothing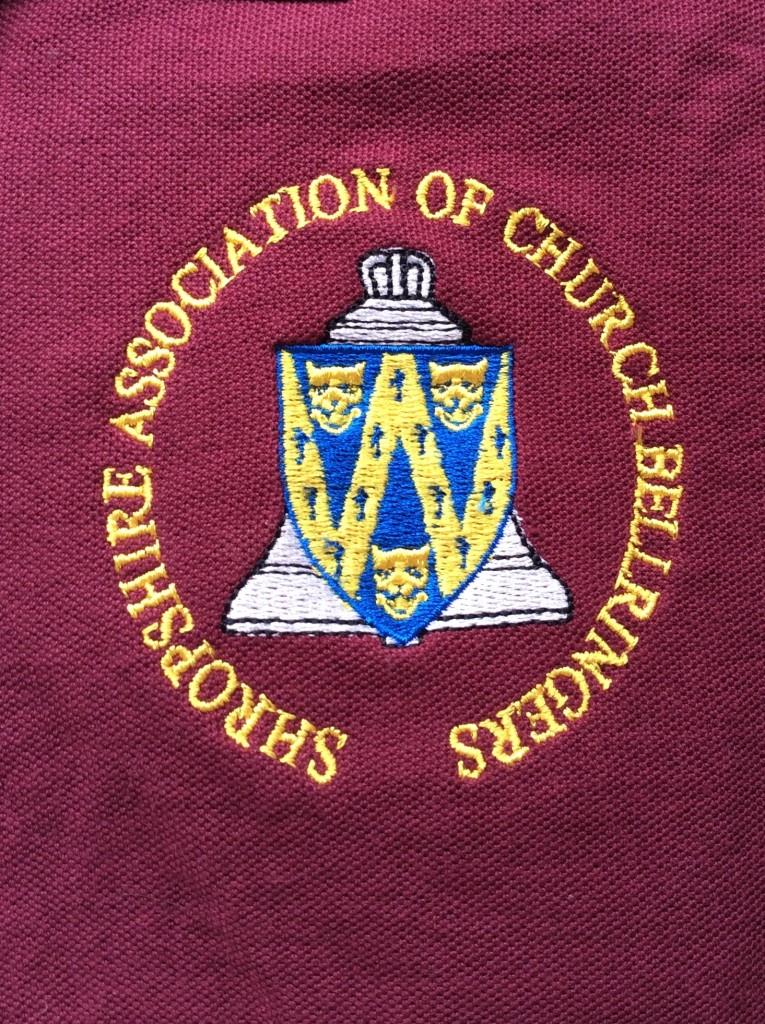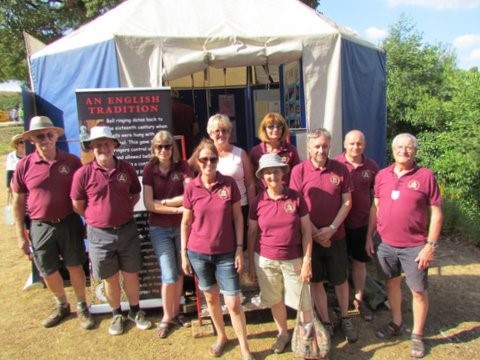 Photos by Biff Patterson, Edric Broom
Safeguarding Update
Books For Bellringers
Jad Bienek
Shropshire Young Ringers
Tower Access Guidance Notes
PowerPoint Presentations for PR
Peal Opportunities
Quarterly Newsletter
Association Monthly Surprise Major Practices
Committee Meeting
Newsletter Editor