Shrewsbury, St Mary the Virgin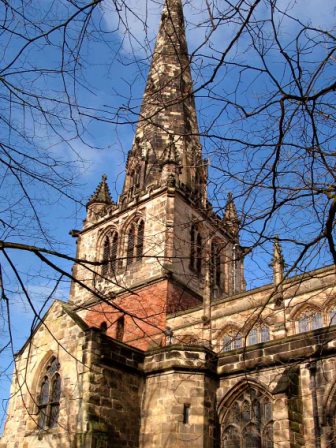 Photo: Nick Green
10 bells, tenor 19-2-10 in Eb SY1 1DX SJ 493126
The church is in the care of the Churches' Conservation Trust.
Sunday: By arrangement, with occasional ringing for special services
Tuesday: 7.30 - 9.00pm, Tuesday after third Monday in month only, check with the tower correspondent
The tower door is external on the north side facing the Yorkshire House. Parking is very difficult, especially during the working day. The nearest public car park is at Raven Meadows. It will take ten minutes to walk to the church through the Darwin shopping centre. The traffic system in the town can be confusing and slow - visitors should allow extra time to reach the church. It is far quicker to walk between St Chad's and St Mary's rather than to attempt to drive.
Bells 3 -10 cast by Pack and Chapman in 1775. The trebles were added by Thomas Mears in 1811 but were recast by John Taylor & Co. in 1911 when the back eight were tuned. The bells hang in a wooden frame. A bell cast in 1755 by Abel Rudhall and weighing 1-3-0 hangs in an open turret at the angle of the chancel and the south transept. The church has a magnificent Jesse window, formerly in Old St Chad's and finely carved roof bosses. Nearby is The Shrewsbury Arms (The Loggerheads), a pub little troubled by progress with the exception of the demise of the gentlemen only bar, an unfortunate victim of political correctness.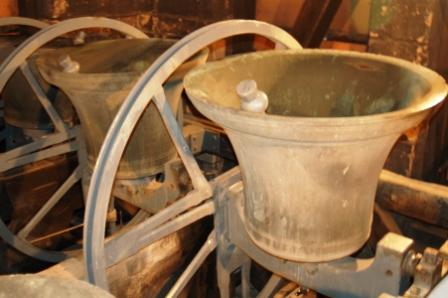 The Tenor and ninth, with the eighth beyond

The date of the back eight bells

Incised inscription on the fourth bell

The founders of the back eight bells

The Whitchapel decoration on several of the bells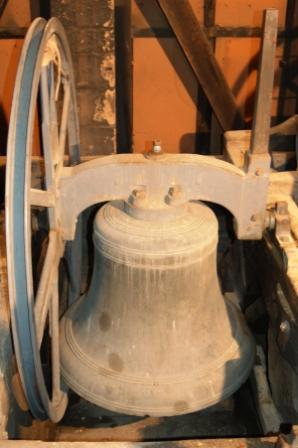 The Tenor bell