Shrewsbury, St Alkmund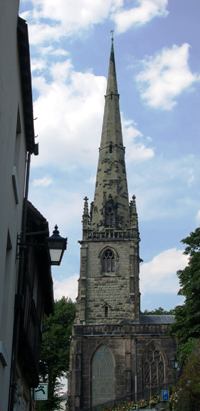 8 bells, Tenor 13-1-0 in Ab SY1 1UH SJ 493125
The medieval spire, which was retained when the rest of the church was hastily rebuilt in 1793-5 following the collapse of 'old' St Chad's, contained a ring of five cast by William Clibury in 1621 and augmented to six in 1695 by Abraham Rudhall. These were replaced by a ring of eight cast by John Briant of Hertford in 1812. There continued to be doubts about the stability of the spire, and there were periods when ringing of any great length was not allowed. Despite this, sixteen peals were rung between 1812 and 1913. The bells were only rung briefly and sporadically after the Great War until the early 1960s, when Fred Sharpe advised that the tower movement was excessive and that the bells should not be rung without modification.
The church was under threat of redundancy and needed a large amount of money for major repairs so in 1972 the bells were offered for sale. The Shropshire Association, on the instigation of the late Richard Stevens, agreed to buy them and hang them in a tower which was to be built by Telford Development Corporation as a feature in the Town Centre Park. By 1981 it became clear that TDC were no longer willing to go ahead so the Association set about disposing of the bells. After prolonged negotiations, the bells went to St Andrew's Cathedral, Honolulu. The bells were removed by Eayre and Smith in late 1990 and tuned at Whitechapel. E & S provided new fittings and the bells were inscribed with the names and regnal dates of the kings and queens of Hawai'i. The weight of the tenor after tuning was 12-0-26 and its note F#.
Part of the arrangement for the removal of the eight bells was the supply and fitting of a small bell to be used as a Sanctus bell. This came from the partly demolished church of St Martin, Preston Gubballs. It is a flat-topped Abraham Rudhall bell of 1720, diameter 21" with the inscription 'PEACE AND GOOD NEIGHBOURHOOD'. It is hung from a metal headstock in the pit of the old fourth and is operated by a counterbalanced chiming lever.
The canons removed from the sixth bell returned to the Association when they were mounted to form the 'St Alkmund's Canons Trophy', to be awarded annually to an individual who has made a significant contribution to ringing in the area.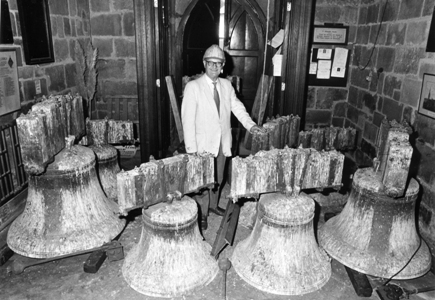 The bells at the base of the tower with the then
priest in charge, the late Reverend Ken Beavan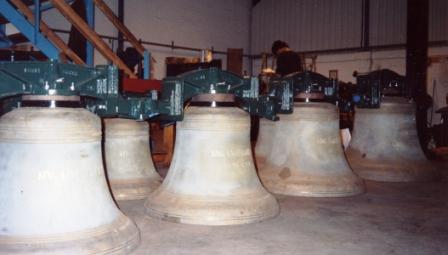 The refurbished bells with new fittings and the engraved names
of the kings and queens of Hawai'i on their waists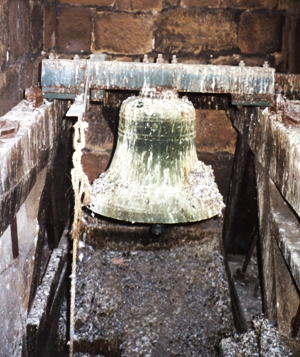 The replacement chiming bell at St Alkmund's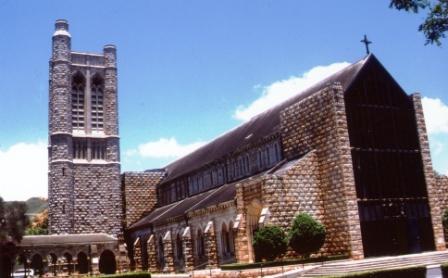 St Andrew's Cathedral, Honolulu