Sheriffhales, St Mary the Virgin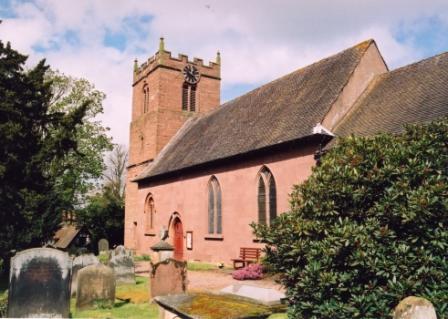 6 bells, tenor 9cwt in G TF11 8RA SJ 758120
Sunday: Occasional ringing only
Monday: 7.30 - 8.30pm most Mondays, excluding Bank Holidays
The heaviest five bells were cast by by Joseph Smith of Edgbaston 1722 and the treble by James Barwell of Birmingham in 1894. All the bells retain their canons and are hung from wooden headstocks in plain bearings. Extended bell bolts mean the canons are no longer used to secure the bells. The timber frame is Pickford 6.4: B1, C2, D3, E4, F5, A6, but without any division between pairs of pits. A number of the stays are reinforced with metal strips.
The bells are rung from a gallery with access from the ground floor vestry via a timber staircase. The gallery is separated from the nave by a glazed screen. The clock pendulum hangs down into the ringing room.
Parking is available in the lane below the church.
The Tenor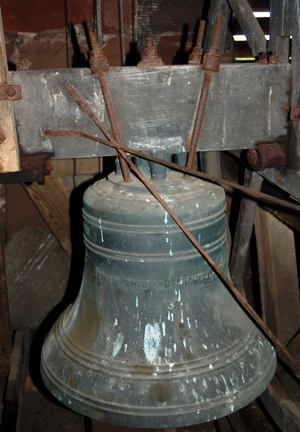 The Treble, with Barwell's
version of Doncaster canons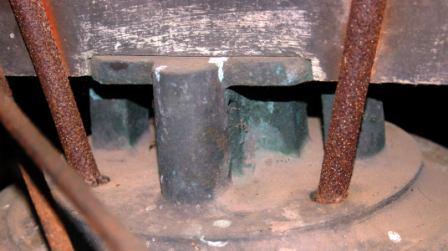 Detail from the head of the Treble

1722 on a Joseph Smith bell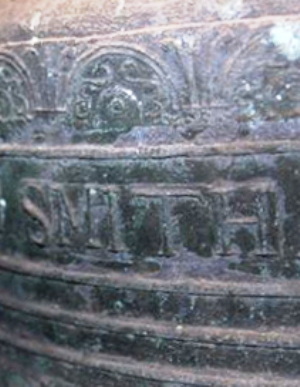 The founder of the back five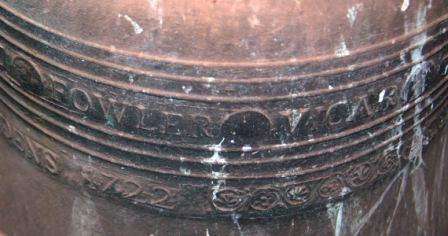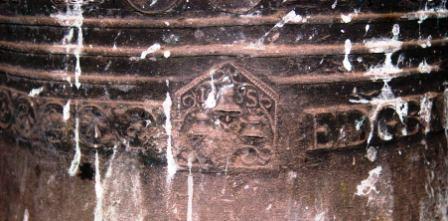 Inscriptions and decoration, including Joseph Smith's badge