Norton-in-Hales, St Chad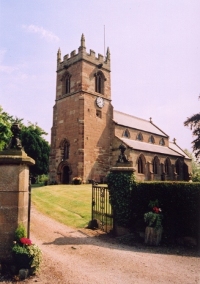 8 bells, tenor 11-0-17 in F# TF9 4QX SJ 703387
Sunday: 10.40 - 11.15am
Thursday: 7.30 - 9.00pm
The Treble, 5th and Tenor were cast by John Warner and Sons of London in 1867. The 2nd, 3rd, 4th and 7th were cast by the same foundry in 1864.The sixth was cast by John Clibury of Wellington or Hugh Watts of Leicester in about 1600. All have had their canons removed. The bells were rehung in a two-tier frame by John Taylor and Co. in 1967. All of the ropes are quite heavily drawn through the clock chamber.
Access to the rather small ringing room is via a newel staircase in the south-west corner of the porch next to a fine seventeenth century monument to Sir Rowland and Lady Francis Cotton.
The bells are also sounded by a carillon installed by Thwaites and Reed of London in 1868. This plays one of three tunes every three hours. The tunes are 'Home sweet home,' 'There's nae luck about the house' and 'We love the place O God.'
The choir stall nearest the organ and lectern has an interesting example of the recycling of Jacobean domestic furniture. A font dating from the twelfth or thirteenth century can be seen outside the church. Parking is available in the churchyard and on adjoining roads. An excellent web site about the village can be found at http://www.nortoninhales.org/, including a page about the bellringers.