Newport, St Nicholas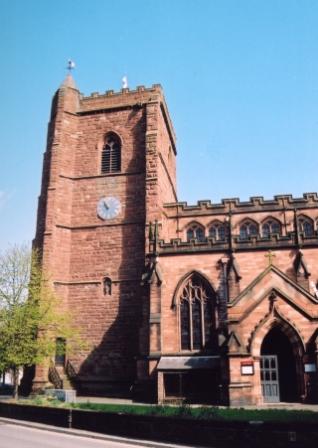 8 bells, tenor 13-2-16 in G TF10 7AY SJ 745192
Sunday: 9.55 - 10.30am
Friday: 7.30 - 8.30pm
All bells except the second, fifth and sixth were cast by Thomas Mears II of London in 1812. The fifth was cast by George Mears of London in 1856 but is inscribed with Charles and George Mears. The second and sixth were cast by John Taylor and Co. of Loughborough in 1952. The Mears bells retain their canons and all the bells are hung from wooden headstocks.
There are some external steps at the south west corner of the tower which lead to a spiral staircase giving access to the ringing room. This houses the substantial remains of a barrel chime, now mercifully no longer in the middle of the room.
All the facilities of this busy market town are available near the church. Parking may be available in the one-way St Mary's Street, to the north of the church.