Edgmond, St Peter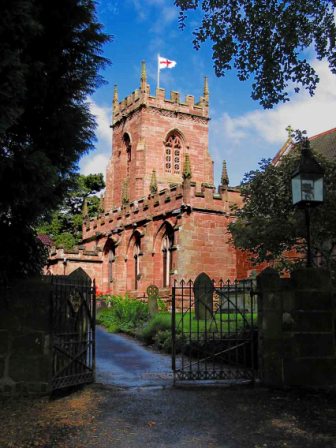 Photo: Nick Green
8 bells, tenor 9-3-12 in G Ground floor TF10 8LD SJ 720193
Sunday: 9.55 - 10.30am (Check with tower correspondent for 5th Sundays)
Wednesday: 7.30 - 9.00pm
The heaviest six bells were cast by Abraham Rudhall II at Gloucester in 1721.
The fourth was recast by John Taylor & Co. of Loughborough in 1887.
The third was recast by the same firm in 1957 when a steel 8 bell frame was fitted.
The two trebles were added by Taylors in 1977 to mark the Queen's Silver Jubilee.
The ringing room is open to the nave and contains an interesting reliquary to house the Association Striking Competition Trophy on the rare occasions when it leaves Shrewsbury. The tower is registered with the Central Council as a Ringing Centre, the only one in the Association's area. It is equipped with a Bagley simulator and various useful courses are run throughout the year. Anyone interested in taking part in such a course should contact the Association training officer.
The church has a toilet and the village has the usual facilities, but these are not immediately adjacent to the church. Parking is either on the little lane leading to the church gate or on the main road.
Edgmond is a good example of the Perpendicular style in Shropshire with much earlier work, including the Decorated chancel. There is a fine Norman font.