Battlefield, Shrewsbury, St Mary Magdelene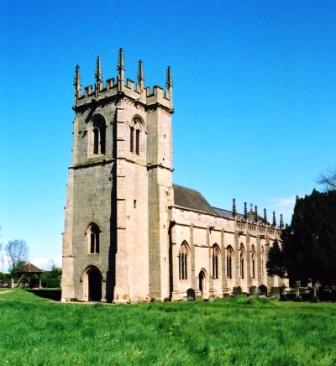 One steel bell SY4 3DB SJ 512172
The church was built in 1408 on the site of the 1403 Battle of Shrewsbury. In 1860 it had a bell weighing 1 cwt 3 qtrs cast by Abel Rudhall in 1755. It was considered too small to be effective and was transferred to Shrewsbury, St Mary (q.v) to serve as a sanctus bell. It was replaced by a steel bell with a diameter of 46½ inches. It is inscribed:
NAYLOR VICKERS & Co 1861 SHEFFIELD E. RIEPE'S PATENT CAST STEEL
It has the number 2726 (or possibly 2526) on the waist. It is hung in a one bell frame in the centre of the upper stage of the tower. It is fitted with a wheel and stay but no slider. There is no sign of a hole in the floor below the wheel and at present it is clocked. The bell is corroded and most of the inscription is now almost illegible.