News Items From 2019
Association events and news
Peals and quarter peals

Members' and tower news
6-bell and 8-bell practices
Surprise Major practices
Shropshire Ringers Go Continental Again
Last year, a group of us paid a flying visit to Ieper, tagged on to a weekend in Dordrecht. Although some of the party stayed an extra day, there is so much to see and do we soon decided it would be good to go back and spend a bit more time exploring the area. Once again Bill Deason was the driving force, and soon we had a hotel booked and ringing slots organised. We felt it would be fitting to dedicate our peal and quarter peal attempts to those ringers from Shropshire who gave their lives in the two World Wars, and with this in mind we applied to take part in the Last Post ceremony at the Menin Gate and lay a wreath.
Twelve of us set off on Friday 5th April and met up in what was to become our most visited restaurant for a convivial start to the trip. Saturday saw a successful peal on the easy to handle and lovely sounding bells of St George's Memorial Church. After a delicious lunch provided by the local ringers, some of us spent the afternoon helping them to practise call changes and plain hunting. In the evening we gathered at the Menin Gate for the ceremony. The wreath was laid by the Master of the Association accompanied by two past Masters and the youngest member of the group.
Three quarter peals were scored over the next two days, the last being specially arranged for Liz Millward, who had spent her birthday looking after us. By the time we headed home on Monday afternoon, we had all rung a peal or quarter, most had visited battlefields and cemeteries, walked the ramparts, sampled the local beer and eaten a lot of chocolate.
Thanks from us all to Bill for making it happen, Liz for her excellent hospitality, and especially remembering all those brave young men.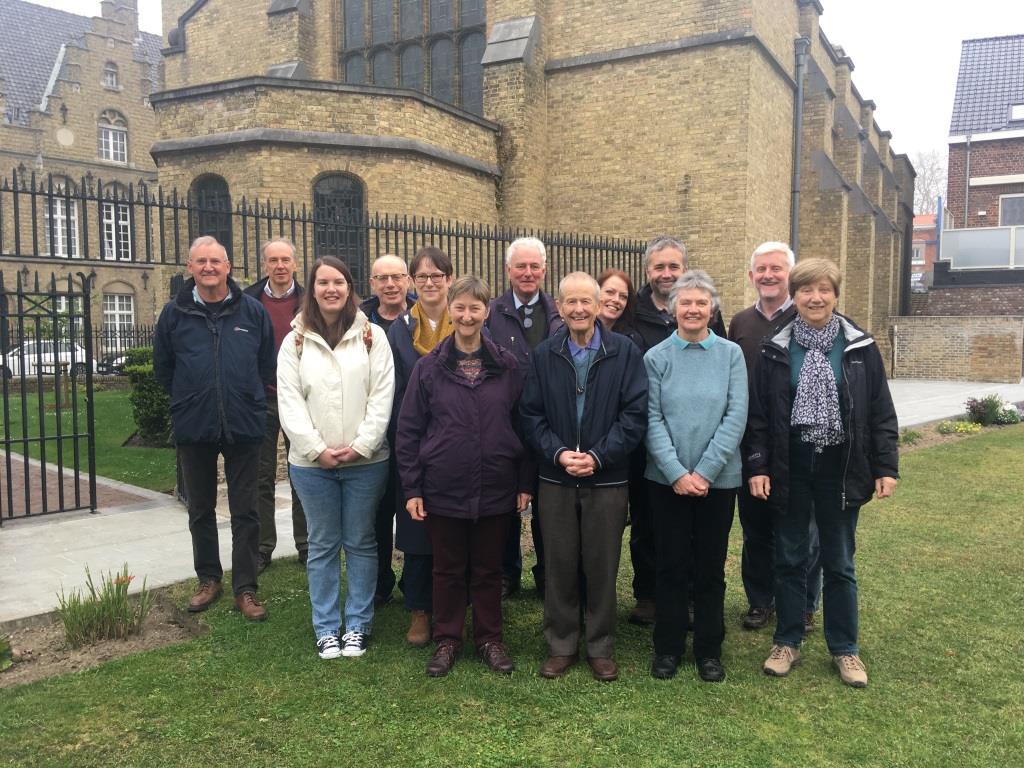 The tourists outside St George's church, Ieper
April Association Training Morning
Report by Biff Patterson
Major E R Trevor Corbett
April Association Practice & Quarterly Meeting
April 8-bell Practice
An Association Peal at Ieper/Yper/Ypres
Recruitment and Retention Workshop
Another Association Peal
March Association Practice
Third Peal of 2019
First Quarter Peal Congratulations
Lewis Roberts
New Members' Meeting
February Surprise Major Practice
Anne Monie
February Monthly Practice
February Training Morning
February 8-bell Practice
First Peals of 2019
Association Practice and AGM